sam-yama, holding together
The meanings of this word begin cheerfully and simply and quickly go to hell:
holding together , restraint , control , (esp.) control of the senses , self-control
tying up (the hair) Sa1h.
binding , fettering VarBr2S.
closing (of the eyes) Ma1rkP.
concentration of mind (comprising the performance of dhāraṇā , dhyāna , and samādhi , or the last three stages in yoga) Yogas.
effort , exertion (ā́ , " with great difficulty ") MBh.
suppression i.e. destruction (of the world)
Look at the related word, sam-yam: to guide horses, senses, passions, to press close to. There is the image of the rider, pressing close to the horse, running across the land, the horse and rider joined in the ecstasy of movement.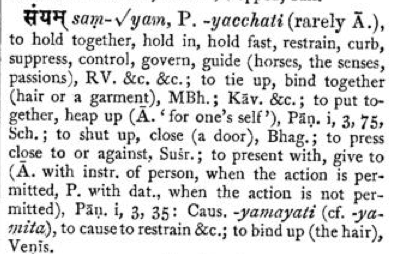 sa
ṃ
yam

| | |
| --- | --- |
| (H1) | P. |
sa
ṃ
yatendriya

| | |
| --- | --- |
| (H3) | mfn. |
sa
ṃ
yatin

| | |
| --- | --- |
| (H2) | » |
| (H2) | mfn. |
sa
ṃ
yama

| | |
| --- | --- |
| (H2) | m. |
| [L=225658] | tying up (the hair) |
| [L=225659] | binding , fettering |
| [L=225660] | closing (of the eyes) |
| [L=225661] | concentration of mind (comprising the performance of |
| [L=225662] | effort , exertion ( |
| [L=225663] | suppression |
| [L=225664] | N. |
sa
ṃ
yuj

| | |
| --- | --- |
| (H1) | P. A1. |
| (H2) | mfn. |
| (H2B) | m. |
| (H2B) | f. |
sa
ṃ
yukta

| | |
| --- | --- |
| (H2) | mfn. |
| [L=225729] | conjunct (as consonants) |
| [L=225730] | connected , related ( |
| [L=225731] | married to ( |
| [L=225732] | placed , put , fixed in ( |
| [L=225733] | accompanied or attended by , endowed or furnished with , full of ( |
| [L=225734] | ( |