Masochism and Pain Addiction
Beware of Inflicting Pain on Yourself in Meditation


Like a lot of kids, I wore braces when I was a teenager. For the first year or so, the pain was quite uncomfortable. I hated everything about the braces – the wire cutting the inside of my cheeks, the weekly adjustments in which the orthodontist would tighten the screws, the difficulty of eating anything, the tediousness of brushing around the wires and brackets. After about a year, I bonded with the pain. It began to seem normal, just part of life, pain means you are alive.
Then four years later, when the braces finally came off, I missed them for weeks. One day I was walking along and realized that I missed the pain of always having my teeth being forced to move. Hmmmm, who would have thought you could bond with pain in that way?
When I started doing yoga in 1968, one of my teachers was fond of the full-lotus position. I was very flexible from surfing and bodysurfing, so I could get into the pose and stay there, but it hurt my knees. When I asked him about the pain, he said to just observe it and you will learn to conquer it. He said the lotus pose helps to force your energy upwards and away from base impulses like sexuality. There was something in his attitude that reminded me of my experience adapting to braces, of bonding with pain. And something more – there was an urge to dissociate, to cut oneself off from the human. I noted his attitude and stopped fooling around with the lotus at all.
A few months later, I started getting sessions of
Structural Integration
, which is commonly called Rolfing. The sessions are an intense deep-tissue massage that focuses on aligning the body with gravity and freeing up the joints and ligaments to move freely. The work is often painful, extremely so, as the Rolfer pushes his elbow or knuckles into your legs, back, or belly. But he made an interesting comment – he explained to me how sitting cross-legged can overstretch the ligaments around the knee, leading to injury. From then on I made sure that I meditated with my feet on the ground at least half the time, so that I wouldn't just identify meditation with the full lotus or half lotus. This knowledge has served me well over the past 42 years.
One morning in the 1980's, I was staying with a friend, another long-time meditator. He was the kind of person who insisted on sitting in lotus position, and so he was meditating in that pose while I sat across the room in a chair with my feet on the ground. Then he jumped up to race off to work and then play tennis with business associates. While playing tennis that day, his left knee collapsed. He had ripped a tendon and needed surgery. His orthopedic surgeon thought that the way he did yoga probably contributed to the injury.
Last night I was reading
THE VILLAGE VOICE
and came across an article about women in prison
cutting
themselves. One of these women made the comment, "The more intense the pain was, the better I felt." After slicing her neck with a razor, she said, "There was something in me that needed to come out."
This reminds me of self-inflicted pain I sometimes see in my friends who study and teach yoga. Yoga is subtler, usually – people don't literally slash their arms, and no one I know in California lies on a bed of nails, but there are many techniques for slashing away at your connection to everyday life, and some think this is spiritual.
In the history of Yoga and meditation, there is a lot of cutting.
Detachment
is a kind of cutting off, slicing away of attachments. It is as if entire traditions and styles of meditation were created by and for the self-mutilating crowd. These self-mutilators have contributed greatly to our knowledge of the body and psyche, because as they dissected themselves, they drew maps of their interior spaces. As if an early anatomical researcher took a knife and cut his limbs apart, then drew diagrams of the tissues under the skin.
sadhu lifting rocks with his penis
Sadhu Sundar Singh
wrote about coming across a sadhu lying on a bed of nails. He asked him, "To what end do you wound and torture yourself so?"
The man replied, "It is my penance. I am destroying the flesh and its desires. I serve God in this way, but I still feel all too clearly the pain of my sins and the evil in my desires. Indeed, the pain of them is far worse than the pain of these nails. My goal is to kill all desire and so to find release from myself and oneness with God. I have been exercising this discipline for eighteen months, but I have not yet reached my goal. Indeed, it is not possible to find release in such a short time; it will take many years, even many lives, before I can hope for release."
Then Singh came across a man who had taken a vow of silence. Upon being asked why he was silent, the man wrote: "My nature is so evil that I cannot hope for anything good to come out of my mouth. I have remained silent for six years, but my nature remains evil, so it is better that I remain silent until I receive some blessing or message that can help others."
Most of us are familiar with at least some degree of the self-hatred manifested in these yogic practices. And the brilliance of India is manifested in the variety of practices that have evolved for expressing this hatred of life. Christianity also has evolved its own forms of self-mutilation and torture. There are cults around the world where crucifixion is practiced. Selected members imitate Christ by being whipped and then hung on a cross (usually with ropes.)
There are many reasons why people bond with pain or engage in activities that inflict some kind of damage on the body or mind. One is that if you intentionally inflict pain on yourself, you are taking charge – you yourself are not just a helpless victim, you are actively participating in your own destruction. Another is that the pain of cutting yourself distracts you from the greater, existential pain you are in, or else you give the immense cosmic pain a narrow focus in the needle or ring you just forced through your skin. There is catharsis from the blodletting. And there is a mystical power some people feel from the sacrifice itself.
Just now I typed "Christian flagellation" into a search engine, and sexuality.org was one of the first hits, an article by Dorothy C. Hayden, CSW:
Masochism as a Spiritual Path
.
"The Psalmists were in the practice of lashing themselves every day. It was part of the Jewish tradition, 500 years after Christ; to lash one another with scourges after they had finished their prayers and confessed their sins."
"Flagellation in monasteries and convents were the order of the day. Saints such as St. William, St. Rudolph and St. Dominic would routinely order their disciples to lash them on bare backs. From flagellating themselves, priests began to flagellate their penitents as part of their penance. It came to be regarded as a necessary act of submission to God. Some holy men maintained that whipping had the power to rescue souls from hell. They believed that humiliation and physical pain provided a way in which one could become fully human."
The identify of body mutilation equals holiness is so accepted in the rural villages of India that con men go around pretending to injure themselves or perform miracles, in order to get a day's food and a place to sleep for the night.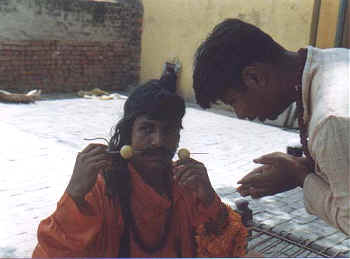 Fake sadhu pretending to pierce his cheeks with a skewer
There is a fine line between the pain of damage and the pain of working yourself to the maximum. More than a fine line, there is a universe of distinctions to be made. Love hurts, it works the heart, and we have to learn to read a thousand different kinds of pain. Athletics and weight training hurt, and we have to learn to read the different kinds of pain.
And sometimes, things get miswired . . . we can bond too closely with pain and start to think that pain is the path.
So spirituality often has elements of masochism in it, but if you are not a masochist, be alert to not internalize their practices. People who are fully committed to the path of sadism and masochism probably have a kind of protection, a self-balancing quality, because of their love of it. If it's not your path, then you won't evolve by inflicting pain on yourself. So investigate carefully the next time someone suggests you "work through the pain" involved in some practice. What kind of pain, exactly?