Curriculum Vitae
Lorin Roche, Ph.D.
EDUCATION
Ph.D., University of California at Irvine, Social Sciences, 1987. Concentration: Cognitive Anthropology. Research Interests: The language of emotional experience, the semantic structure of meditative experience, mathematical modeling of subjective perception, the spontaneous nature of meditation techniques. Dissertation: Structures in the Language of Meditative Experience: Taxonomic and Multidimensional Representations. Advisors: Dr. Roger Walsh, Dr. Kim Romney, Dr. Doug Chalmers (Chair). In other words, the language meditators generate to describe their inner experiences.
M.A., University of California at Irvine, Social Sciences, 1985. Concentration: Cognitive Anthropology. Research Interests: The hazards of meditation. Thesis: The Management of Meditation-Induced Abreaction. Advisors: Dr. Roger Walsh, Dr. Kim Romney, Dr. Doug Chalmers (Chair). In other words, the developmental challenges produced by the intense changes resulting from a successful yoga meditation practicev
B.A., University of California at Irvine, Social Ecology, 1977. Cum Laude.
BOOKS
Camille Maurine and Lorin Roche,
Meditation 24/7: Practices to Enlighten Every Moment of Your Day
, Andrews McMeel, 2004
Lorin Roche,
Whole Body Meditations
, Rodale/St Martin's Press, 2002.
Camille Maurine and Lorin Roche,
Meditation Secrets for Women
, HarperSanFrancisco, 2001.
Lorin Roche,
Breath Taking
: Lessons in Breathing to Enhance Your Health and Joy of Living, Rodale/St Martin's Press, 2001.
Lorin Roche,
Meditation Made Easy
, HarperSanFrancisco, 1998.
Lorin Roche,
The Radiance Sutras
, A New Version of the Vijnana Bhrairava Tantra, Syzygy Creations, 1993-2005.
JOURNAL ARTICLES
Walsh, Roger and Lorin Roche, 1979. Precipitation of Acute Psychotic Episodes by Intensive Meditation in Individuals with a History of Schizophrenia. American Journal of Psychiatry 136: 1085-1086.
MAGAZINE ARTICLESLA YOGA, monthly column
Meditation
, Martha Stewart's Body + Soul, June 2005.
Learn to Meditate for Big Health Benefits, Bottom Line Health, vol. 16 no. 5 May 2002.
Meditation and Self-Healing, Lupus News, vol. 22 no. 1 Spring 2002.
A Heart-Centered Meditation, Body & Soul, New Age Annual Guide to Holistic Living, 1999.
TEACHING EXPERIENCE
1975-present. Teacher of Meditation in private practice. Developed a systematic interview methodology for assessing which meditation techniques, out of the thousands available, best fit an individual's unique cognitive style, emotional needs and life circumstances. Consulting with students of every level of experience, from total beginner to thirty years or more of meditation practice. Individual and small group.
1970-1975. Certified Teacher of Transcendental Meditation for the Student's International Meditation Society. Conducted meditation workshops on university campuses, military bases, businesses, high schools, churches and in private homes. Worked for free, teaching meditation to hundreds of students in the high schools of the Newport-Mesa Unified School District in Orange County, California, 1971-1974.
1992. Meditation and Massage, with Vickki Topp. Esalen Monthlong Work-Study Group.
1977-1981. "Developmental Crises on the Path of Meditation." Lecture and workshop series.
1971-1975. Transcendental Meditation weekend retreats, consisting of pranayama, asana and meditation.
1968-70. Director,
Experiential Workshops
, an Esalen-at-Irvine program modeled on the
Esalen at Stanford
program. Designed a curriculum including Yoga, Dance Therapy, Tai Chi, Gestalt Therapy, Psychosynthesis, Rolfing, and Art Therapy. Obtained University approval and set up accredited classes which were taught by experts in the field. Supervised and graded approximately 80 students per quarter taking these classes.
RESEARCH EXPERIENCE
Ph.D. research (1979-1986) involved interviewing hundreds of meditators of every type. The subjects' meditation training was Sikh, Buddhist, Tibetan Buddhist, Christian, Hindu, Vipassana, Taoist, Transcendental Meditation, and others, including self-taught meditators. The focus was on recording and discerning the structure in the language people come up with to describe their raw experience.
Master's degree research (1976-79) involved interviewing people who had negative experiences with meditation and developing a model for understanding what went wrong.
Experimental subject and lab assistant for research on the physiology of meditation, UCI and UCI medical school, 1968-1976. The studies were focused variously on the effects of meditation on EEG, GSR, oxygen consumption, serum cortisol, and asthma.
GRANTS
Authored a grant, which was funded, to study the personal histories of homeless people checking into a shelter at St. Mary's Episcopal Church in Laguna Beach, California, 1985-87. Created and chaired a team of social workers, psychologists, researchers and nurses in providing services to the homeless. Worked with the staff to provide two meals a day, temporary housing, and jobs for an ever-changing population of about 90 homeless. Recruited a team of more or less sober homeless people to assist in running the program.
AREAS OF INTEREST
Currently (1990-present) interested in the instinctive roots of meditation. Meditation appears to be hard-wired into the body, since even beginners with a few hours of instruction, can enter a state of restfulness much deeper than sleep, even in the uncomfortable circumstances of a physiology lab. This is a well-replicated finding and points to meditation as an instinctive part of our survival skills.
Thus, the thousands of different meditation techniques can be seen as different ways of accessing a mind/body response that is innate. The instincts – hunting, exploring, resting, feeding, playing, nesting, bonding – seem to guide the flow of attention during meditation. Paradoxically, the aim of many spiritually-oriented meditation techniques is to damage or suppress the instincts. People are often injured in subtle ways by doing the wrong meditation. This goes undiagnosed, because the very idea that meditation can be harmful is counterintuitive.
On Another Note:
In case you have noticed gaps in my CV and wondered, "WTF was he doing? . . . There's a one year gap her, two years there!" – After doing things that are very extroverted or demanding, I tend to go off and meditate alone for a year at a time here or there. It could be argued that meditation teachers should list on their resumes all the different retreats they have gone on. I much prefer being alone in nature to being at an official "spiritual retreat."
OK then. Here's one. For example, when I finished my Ph.D. in 1987, I was so exhausted that I went to Hawaii, bought an old Jeep, and lived outdoors on the Kona coast of the Big Island for over a year, practicing yoga and meditation. It took that long for my nervous system to feel normal again (normal for me).
During that year I was reviewing the 112 yogas described in the Vijnana Bhairava Tantra and beginning to develop a fresh translation,
The Radiance Sutras
. When I returned in 1990, I spent several years immersed in writing.

Lorin at 41, after six months in Kona
In the background of the photo is the barren, black lava I grew to love. What you can't see is that when you jump into the water (there is no beach, only a rock wall) you are immediately in 15 feet of incredibly gorgeous, sculpted grey-black rock, with fish everywhere.



link
to a Kona diving site.
During the days, mainly what I did was dive and swim up and down the coast, from South Point to Kohala, for more than a year. At sunset, I would sit on some spot overlooking the ocean and watch the light fade away and the stars come out.
I plan to return, by the way, bringing friends and anyone who wants to learn how to combine meditation awareness with entering the ocean. I developed an entire series of yoga asanas and breathing techniques for becoming at ease and in delight in the ocean.
My sense of the Hawaiian Islands is that they are a
world resource
for healing. Each island has a completely different personality, and can heal you in different ways, no matter what the world has done to you. When you learn to be relaxed in the ocean, completely at home like a dolphin, you can really absorb the rejuvenating and generous energies of the land and sea of Hawaii.
Photo:
Ben Mazin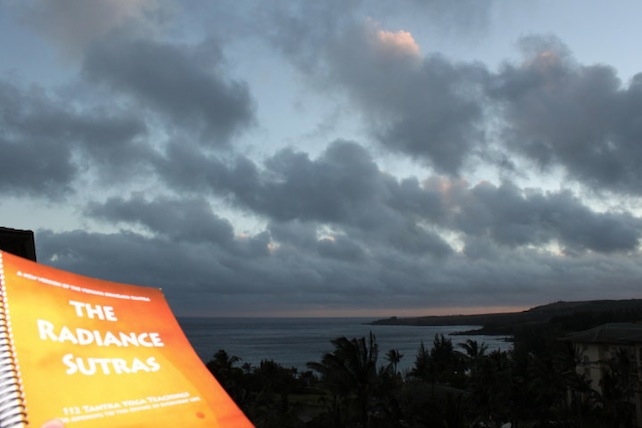 June 2010 - The Sutras return to Hawaii! photo by Seth Hutton.