Yoga is the Survivor of the Culture Wars
A fascinating series of articles on yoga. The
Columbia Journalism Review
has an article,
Fear of Yoga
, by Robert Love.
"Yoga is the Survivor of the culture wars: unbloodied, unmuddied, unbothered by the media's slings and arrows, its leotard still as pristine as its reputation. Everybody loves yoga; sixteen and a half million Americans practice it regularly, and twenty-five million more say they will try it this year. If you've been awake and breathing air in the twenty-first century, you already know that this Hindu practice of health and spirituality has long ago moved on from the toe-ring set. Yoga is American; it has graced the cover of Time twice, acquired the approval of A-list celebrities like Madonna, Sting, and Jennifer Aniston, and is still the go-to trend story for editors and reporters, who produce an average of eight yoga stories a day in the English-speaking world.
Journalists love yoga because it fits perfectly into the narratives of everyday life. "Yoga Joins the Treatments for Kids with Disabilities," reported the Evansville Courier & Press this summer. "Yoga Helps Pregnant Women Prepare for Delivery," according to WNCN in North Carolina, an NBC affiliate, which recently broadcast a report about a prenatal yoga class offered by Healthy Moms in Raleigh. "Soldiers Shape up with Peaceful Yoga," an AP-bylined piece about how they are using yoga to both prepare for and recover from combat, ran in the Bradenton [Florida] Herald about the same time.
But wait, there's more: Tribune Media syndicates a strip called Gangsta Yoga with DJ Dog, which appears in newspapers all over the nation from the Detroit Free Press to the Seattle Post-Intelligencer. Then there's yoga to relax sex workers! from the Hindustan Times; and the revelation from Fort Worth, Texas, that yoga is replacing kickball in the city's high school gym classes. Still not convinced? How about yoga skin care, Christian yoga, iPod yoga, golf yoga, tennis yoga . . . well, you get the picture."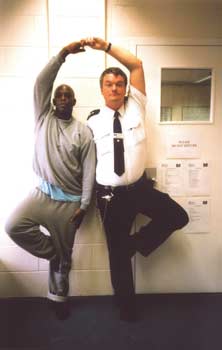 BBC News
has an article in their archives from 2005, about a prison in Norway that stopped having yoga classes because doing asanas brought up intense emotions in the prisoners.
"High-security Ringerike jail near Oslo offered the classes to eight inmates on a trial basis earlier this year. Prison warden Sigbjoern Hagen said some of the inmates became more irritable and agitated and had trouble sleeping. He said the prison did not have the resources to treat emotions unleashed by the deep breathing exercises."
Link
.
Cory Doctorow, one of the super-smart and funny geeks at
Boing Boing
, has his own take on yoga and emotion:
"A Norwegian prison has suspended yoga classes for prisoners because the intense emotions evoked by the exercises caused the inmates to become restive and violent. I kinda get this: when I started doing yoga, I would sometimes get into a pose and experience a great upwelling of sadness or anger and have a vivid flash of some past unpleasant experience. The yogic explanation is that the memory is "stored in your muscle," something I treat as allegorical (along with all the business about chakras, prana, etc). I practice yoga every day now, and credit it with keeping me sane and supple.
'The reactions we received from the prisoners who participated in the classes were very varied, ranging from completely positive to completely negative,' Mr Hagen reportedly wrote in a letter to the group.
On the negative side, the yoga had provoked 'strong reactions: agitation, aggression, irritability, trouble sleeping and mental confusion', he said."
Link
.
The online magazine
Soul Jerky
has an interesting review of Robert Love's essay.
Link
, which includes this interesting note: "My personal favorite nugget? In 1966, Rudolf Hess, the lone surviving Nazi in Spandau Prison, who was serving a life sentence for crimes against humanity, told a reporter that "his chief occupation now is practicing yoga on his cell floor." It just goes to show you that Germany was way ahead of the USA in its popular fascination with the Indo-Tibetan religious diaspora. Yet while this is all well and good, it doesn't even touch the deeper issues surrounding the personal encounter of the yogic mindset with the individual in the west. What was it that attracted us despite all the bad press? What is it about these practices that are simultaneously so appealing, helpful, and potentially volatile? Lots of celebrity names are dropped: Cole Porter, Greta Garbo, Mae West, Henry David Thoreau, Ralph Waldo Emerson, Margaret Woodrow Wilson, Marilyn Monroe, Mia Farrow, Mick Jagger, Marianne Faithful, Donovan."