Monier-Williams

The Monier-Williams Sanskrit-English Dictionary can be found online in several places.

University of Cologne (Koln) -
link
. This is the 2008 revision of the searchable digitized edition.

This –
Cologne Digital Sanskrit Dictionaries
– is an access page to a dozen different ways of accessing Sanskrit dictionaries.





University of Washington -
link
.



Koln also provides a link to scanned images of the pages of the dictionary.
Link
.


Sanskrit Dictionaries Online
The Monier Williams Sanskrit-English Dictionary is online, at the University of Cologne:

Here is the
advanced search
. It defaults to Denagari Unicode.
You may find it more useful to specifiy
Roman Unicode
, which will give you English.
To get the definitions of yoga, type union into the seach window and specify Roman Unicode: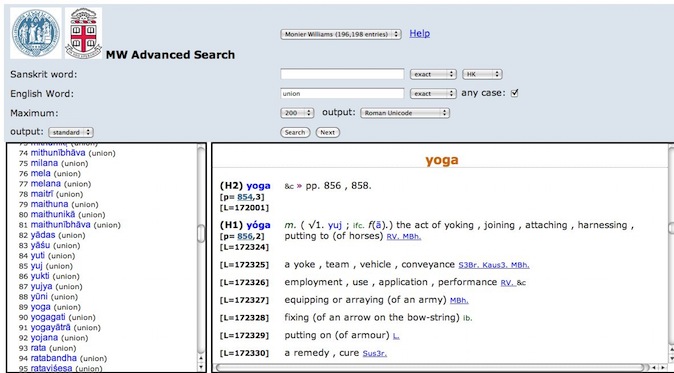 Another useful dictionary that goes both ways is the
Spoken Sanskrit dictionary
. You can enter an English word and get Sanskrit words, or vice versa.
The University of Cologne has a list of digitized and scanned dictionaries
here
.
A Sanskrit scholar has put up a page of links to various Sanskrit resources
here
.
Wikipedia has many articles on
Sanskrit
.
Apte's The Practical Sanskrit-English Dictionary is online
here
.
Lexilogos has a good list of Sanskrit resources
here
.